Together with BAIV BV…
Army Vehicle Marking  presents…
this weekend at the KTR Fair in Gorinchem The Netherlands: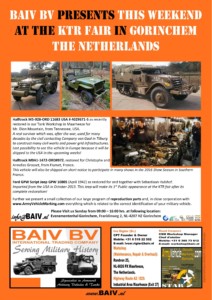 Halftrack M5-928-ORD 11683 USA # 4029671-S as recently restored in our Tank Workshop in Maarheeze for Mr. Dion Mountain, from Tennessee, USA.
A real survivor which was, after the war, used for many decades by the civil contacting Company van Gaal in Tilburg to construct many civil works and power grid infrastructures.  Last possibility to see this vehicle in Europe because it will be shipped to the USA in the upcoming weeks!
 Halftrack M9A1-1472-ORD#972, restored for Christophe and Annelies Grosset, from Flumet, France.
This vehicle will also be shipped on short notice to participate in many shows in the 2016 Show Season in Southern France.
Ford GPW Script Jeep GPW 10805 (April 1942) as restored for and together with Sebastiaan Hulshof.
Imported from the USA in October 2013. This Jeep will make its 1st Public appearance at the KTR fair after its complete restoration!
Further we present a small collection of our large program of reproduction parts and, in close corporation with www.ArmyVehicleMarking.com everything which is related to the correct identification of your military vehicle.
Please Visit us Sunday from 09:00 – 16:00 hrs. at following location:
Evenementenhal Gorinchem, Franklinweg 2, NL-4207 HZ Gorinchem
Hope to see you Sunday!