In general, our pricing for the finishing touch is between 0.75 and 1.25 percent of the value of your vehicle. After all, every vehicle is unique with its own story behind it. That is why we only deliver customer -related customization in consultation with you.
"Penny wise, pound foolish" & "Comparing apples and oranges"
What is the finishing touch of your beloved old-timer or classic military motorcycle, (armoured) vehicle or tank worth?
Your original purchase… 10.000,– / 20.000,– ?
Your NOS parts, make, buy & repair… 5.000,– / 15.000,– ?
Your extra special tools & equipment… 2.500,– / 5.000,– ?
Your restoration work… 1.000 / 1.500 / 3.000 hours plus ?
Total restoration value of your object… 20K+ / 50K+ / 75K+ ?
What is your finishing touch…
… 1 percent, 1 per mille of your total restoration?
Your military markings & stencils…
… via your "neighbour's nephew acquaintance" for a song?
Or…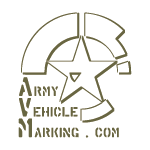 CUSTOM-MADE
Military Equipment, Unit & Vehicle Marking, Decals & Paint Masks Stencils
FOR YOU
with military precision
WWII – Paint Mask Stencils – available in all inch sizes and military fonts / typefaces.